by Gerald Braude
In this newsletter:
Reference links to the December 30, 2022 An Informed Life Radio
Pulmonary Embolism after COVID-19 Shots Spread Out Evenly Across Age Groups in Washington
Where's the 2021 All-cause Mortality Stats for Washington?
ICWA's First Rally at the Capitol in Three Years
Guests: Zoey O'Toole and Kimberly Overton
Pulmonary Embolism after COVID-19 Shots Spread Out Evenly Across Age Groups in Washington
Ever since the rollout of the COVID-19 shots in December 2020, the most discussed side effect has been heart related issues, notably myocarditis.
The past month of December, however, brought much attention to pulmonary embolism following the COVID-19 jabs, notably a December 17, 2022 story in the Epoch Times.
Pfizer's COVID-19 Vaccine Linked to Blood Clotting: FDA (theepochtimes.com)
The article stated that researchers at the United States Food and Drug Administration (FDA) found that pulmonary embolism — blood clotting in the lungs — met the initial threshold for a statistical signal in elderly individuals and continued meeting the criteria after a more in-depth evaluation.
The Vaccine Adverse Event Recording System (VAERS) on the Center for Disease Control and Prevention's (CDC) website supports the FDA's finding that the COVID-19 shots are linked to blood clotting in the lungs in the elderly. VAERS reports 13,187 cases of pulmonary embolism with nearly half of those cases—6,309—occurring in the eighty-plus age range. VAERS also reports 954 deaths from pulmonary embolism with nearly half of those deaths—439—occurring in the eighty-plus age range.
On the other hand, the table below shows that the cases of pulmonary embolism in Washington has been distributed evenly across the age ranges. The highest number is for the fifty-age range (21). Those under forty-nine years old constitute nearly one-third of the cases.
VAERS also reports five cases of deaths from pulmonary embolism following the COVID-19 shots. The most recent death was of a 60-year-old male on September 30, 2021.
VAERS ID:
The submitted write-up reads as follows: Per the County Medical Examiner"s Office:
"This 60-year-old male with chronic ethanolism and recent 1st dose COVID-19 vaccination was witnessed to collapse on the commode at home. Cause of death is pulmonary thromboembolism due to deep vein thrombosis. Hypertensive and atherosclerotic cardiovascular disease, ethanolism and recent COVID-19 vaccination are contributory conditions. The manner of death is natural."
The two oldest to die from pulmonary embolism after the COVID-19 shots were a 94-year-old female after a second Pfizer shot and an 84-year-old male after a second Pfizer shot.
VAERS ID:
VAERS ID:
The two youngest ages to die from pulmonary embolism after the COVID-19 shots were as follows.
VAERS ID:
57-year-old male after a first dose of Moderna
Submitted Write-up: First vaccine dose administered on 4/20/21. Patient was admitted on 4/29/21 with shortness of breath and pleuritic chest pain. CT scan revealed pulmonary embolism and doppler showed vascular access (Hero graft) thrombosis. Patient was treated with heparin and warfarin, and was discharged on 5/5/2021 after being converted to apixaban. Patient missed scheduled dialysis treatment (no call/no show) on 5/8/21 and 5/11/21. Subsequent welfare check found the patient expired at home.
VAERS ID:
42-year-old pregnant female after a first dose of Pfizer
Submitted Write-up: Patient at 27 weeks of pregnancy, reported to midwife at regular visit on 4/14/21 that she was experiencing SOB but all blood work normal – assumed normal SOB with pregnancy. Night/morning of 4/15 started seizures, transported to ED. Diagnosed with massive pulmonary embolism. Emergency C-section performed by Dr. Pt. did not survive.
The only case reported thus far of pulmonary embolism after the COVID-19-2 Bivalent shot was of a 29-year-old male after a fourth dose of Pfizer.
VAERS ID:
Submitted Write-up: Less than three weeks after receiving this dose, I was in the hospital for spontaneous bilateral pulmonary embolisms. I do not know if these events are related, since I do have a family history of blood clots, but I have never had problems before and was not injured prior to the onset of the embolisms.
Where's the 2021 All-cause Mortality Stats for Washington?
Outside the mainstream media, the huge rise in all cause mortality in the countries that have received the COVID-19 shots has been one of the most discussed topics. The first book to document this rise was released in November.
"Cause Unknown": The Epidemic of Sudden Deaths in 2021 & 2022 (Children's Health Defense): Dowd, Ed, de Becker, Gavin, Kennedy Jr., Robert F.: 9781510776395: Amazon.com: Books
In the introduction to his book, Cause Unknown, the author, Edward Dowd, a former portfolio manager for Blackrock, best summarizes the phenomenon:
By 2017, around 2.8 million Americans died. 2018 was about the same again. 2019, about the same again. Not surprisingly, 2020 saw a spike, smaller than you might imagine, some of which could be attributed to COVID and to initial treatment strategies that were not effective.

But then, in 2021, the stats people expected went off the rails. The CEO of the OneAmerica insurance company publicly disclosed that during the third and fourth quarters of 2021, death in people of working age (18-64) was 40% higher than it was before the pandemic. Significantly, the majority of the deaths were not attributed to COVID.

A 40% increase in deaths is literally earth-shaking, and not only for the devastated families and communities that directly experience the deaths. Even a 10% increase in excess deaths would have been a 1-in-200-year event. But this was 40%. And therein lies a story – a story that starts with obvious questions: What has caused this historic spike in deaths among younger people?

What has caused the shift from old people, who are expected to die, to younger people, who are expected to keep living? It isn't COVID, of course, because we know that COVID is not a significant cause of death in young people.
An article by The Expose' last November reveals that data released by the Center's for Disease Control and Prevention (CDC) show an excess of 350,000 deaths by the last week of September 2022. Some project that if the trend continues, the nation has the potential to break the 450,000 excess death threshold by year's end.
USA has suffered shocking 350k Excess Deaths in 2022 so far; evidence suggests COVID Vaccination is to blame – The Expose (expose-news.com)
Even worse, The Expose' published an article at the end of last November stating that CDC data show at least 118,000 children and young adults have "suddenly died" since the rollout of the COVID shots.
CDC quietly confirms at least 118k Children & Young Adults have 'Died Suddenly' in the USA since the roll-out of the COVID Vaccines – The Expose (expose-news.com)
Ever since these statistics started popping up, the obvious question has been whether there has been a rise in excess mortality after the rollout of the COVID-19 shots in Washington as well. An activist for Informed Choice Washington has done a public records request to the Washington Department of Health (DOH) on this matter. On November 28, 2022, Buffi LaDue from the DOH wrote to the activist and stated that data for any of these measures are typically not available until six to eight months after the closeout of the calendar year. As of January 1, 2023, the data for all cause mortality on the DOH site for 2021 are still not listed after one goes to the link below, clicks on "submit" and then clicks on "table." In other words, in reference to the DOH response, they are four to six months overdue on giving the figures for all cause mortality in 2021 here in Washington.
All Cause Mortality – Age Adjusted Rate per 100,000 | Washington Tracking Network (WTN)
ICWA's First Rally at the Capitol in Three Years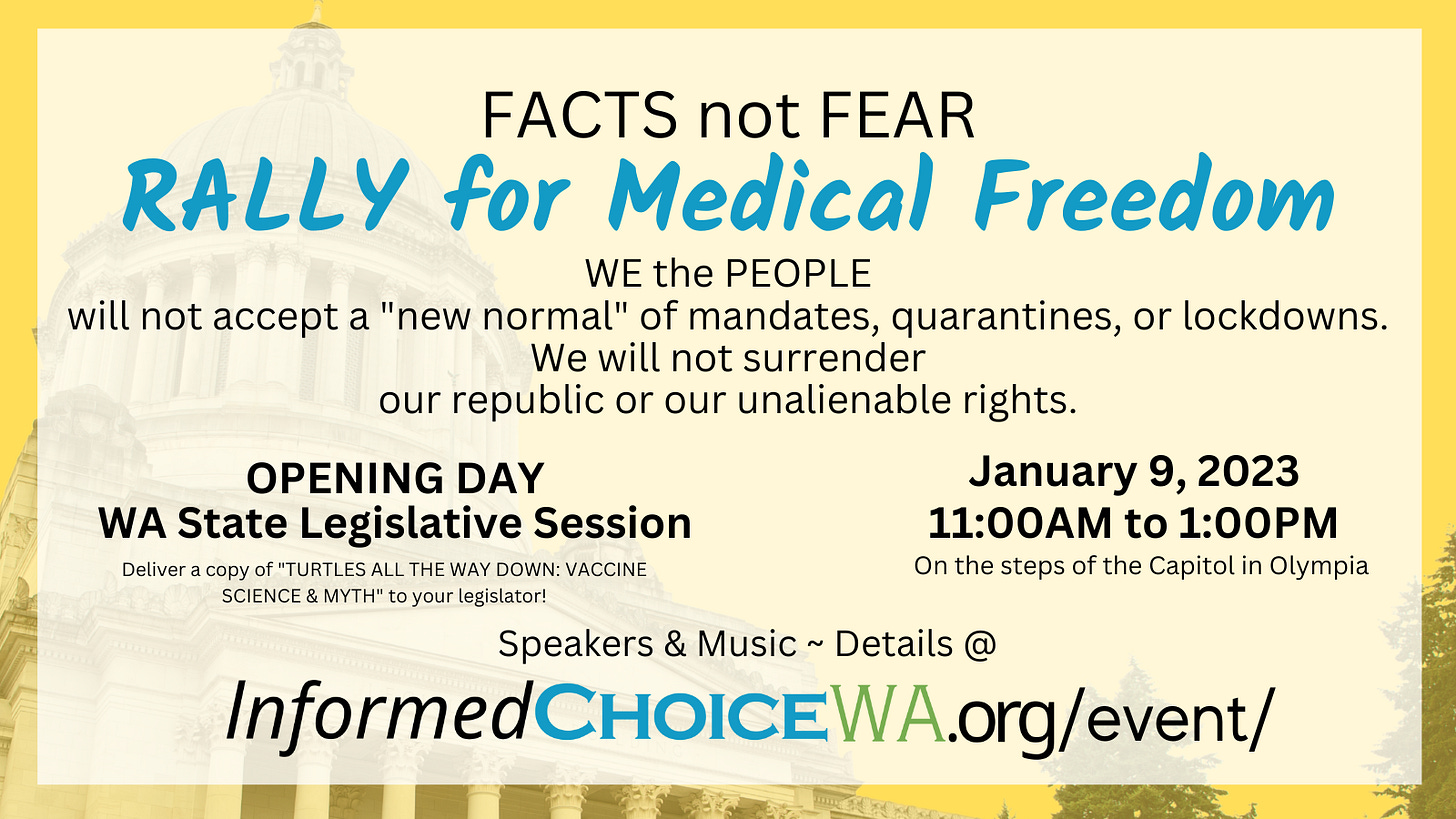 A note from ICWA President, Bernadette Pajer:
"Ever since Covid hit, ICWA has intentionally chosen not to hold our own rallies. Why? Because we were in the midst of a great awakening. The government's response to Covid showed the entire state all the issues we had been focusing on for years. As freedoms of all sorts were being stripped, grassroots groups spontaneously formed, held rallies, drew crowds, and ICWA and many of our members were there.

ICWA showed up at mask, lockdown, and mandates protests. We marched in Seattle outside the Gates Foundation, we spoke at the Capitol outside the barbed wire fence with the young members of the National Guard listening, and we sponsored Dr. Judy Mikovits's event in Woodenville. We brought signs, banners, and information to the tens of thousands of citizens newly awakened to the need to protect medical freedom.

But now it's time. Time for ICWA to host a rally on the Capitol steps and let the legislature know we are here, and we have grown. Exponentially. Please join us!
ICWA invites everyone to join their "FACTS, not FEAR" rally at the capitol when Washington State's legislature convenes its session on Monday, January 9. The rally will take place between 11 a.m. and 1 p.m.
You don't want to miss our speaker lineup on the north steps of the Legislative Building. You can also deliver Turtles All the Way Down: Vaccine Science and Myth to your three legislators that day.
Action to take now: we need YOU to make a brief appointment with each of your legislators OR their legislative assistants (look them up HERE) for that day. If they hesitate, say you only need five minutes of their time–that you'll be attending an event on campus that day and want to stop by. We'll give you the books, cover letters, and one-page executive summary, addressed to your lawmakers and ready for you to deliver. When you meet them, you can let them know that the book will provide insight into vaccine products—their capabilities, limitations, and risks–and help them understand why more people are researching these details, since the messaging we hear doesn't match the products. This insight will help our legislators do their jobs. Trust in public health has been eroded, and the book helps explain why.
We need MANY OF YOU to join us in order to be heard above the lobbyists lined up outside their doors, so plan to bring your kids and friends!