by Gerald Braude
In this Newsletter:
Links for the Nov 28 An Informed Life Radio
Silencing Washington Doctors and Nurses
Flawed Evidence with the Skagit Valley Chorale
Guest: Zoey O'Toole
Guest: Alex Mitchell
Coronavirus (COVID-19) Vaccine-Induced Immune Thrombotic Thrombocytopenia (VITT) https://www.ncbi.nlm.nih.gov/books/NBK570605/
COVID‐19 mRNA‐1273 vaccine induces production of vaccine‐induced immune thrombotic thrombocytopenia antibodies https://www.ncbi.nlm.nih.gov/pmc/articles/PMC9081112/

"To add to this case, the CDC reports two additional patients with a clinical/laboratory picture consistent with VITT after mRNA‐1273 vaccination . . . In addition, a recent case of VITT has been reported after HPV vaccination (recombinant human papillomavirus quadrivalent vaccine), which uses nonadenoviral virus‐like particle vaccine technology. 6 Thus, we believe the emerging data on VITT after nonadenoviral vector vaccines highlighted by our case suggests that VITT should remain on the differential diagnosis for thrombotic thrombocytopenic reactions seen after multiple different vaccine types so that an accurate diagnosis can be made and appropriate treatment interventions promptly instituted."

Vaccine-induced immune thrombotic thrombocytopenia: Updates in pathobiology and diagnosis https://www.ncbi.nlm.nih.gov/pmc/articles/PMC9637757/
Silencing Washington Doctors and Nurses
There's a saying in the United States, "What happens in California will spill over to the rest of the country."
The latest potential spreader has been California Assembly Bill 2098, which Governor Gavin Newsom signed into law on September 30, 2022.
Bill Text: CA AB2098 | 2021-2022 | Regular Session | Amended | LegiScan
The law subjects the state's doctors to discipline, including the suspension of their medical licenses, for sharing what is deemed by the state's medical board as "misinformation" or "disinformation" about COVID-19 with their patients.
With the next legislation session not far away in Washington, the question is whether state lawmakers will pass a similar bill. In the meantime, Washington nurses and doctors still need to be aware of statements published last year by Washington Department of Health's Nursing Care Quality Assurance Commission (NCQAC) and the Washington Medical Commission (WMC) on COVID-19 misinformation. The statement was first issued on September 10, 2021.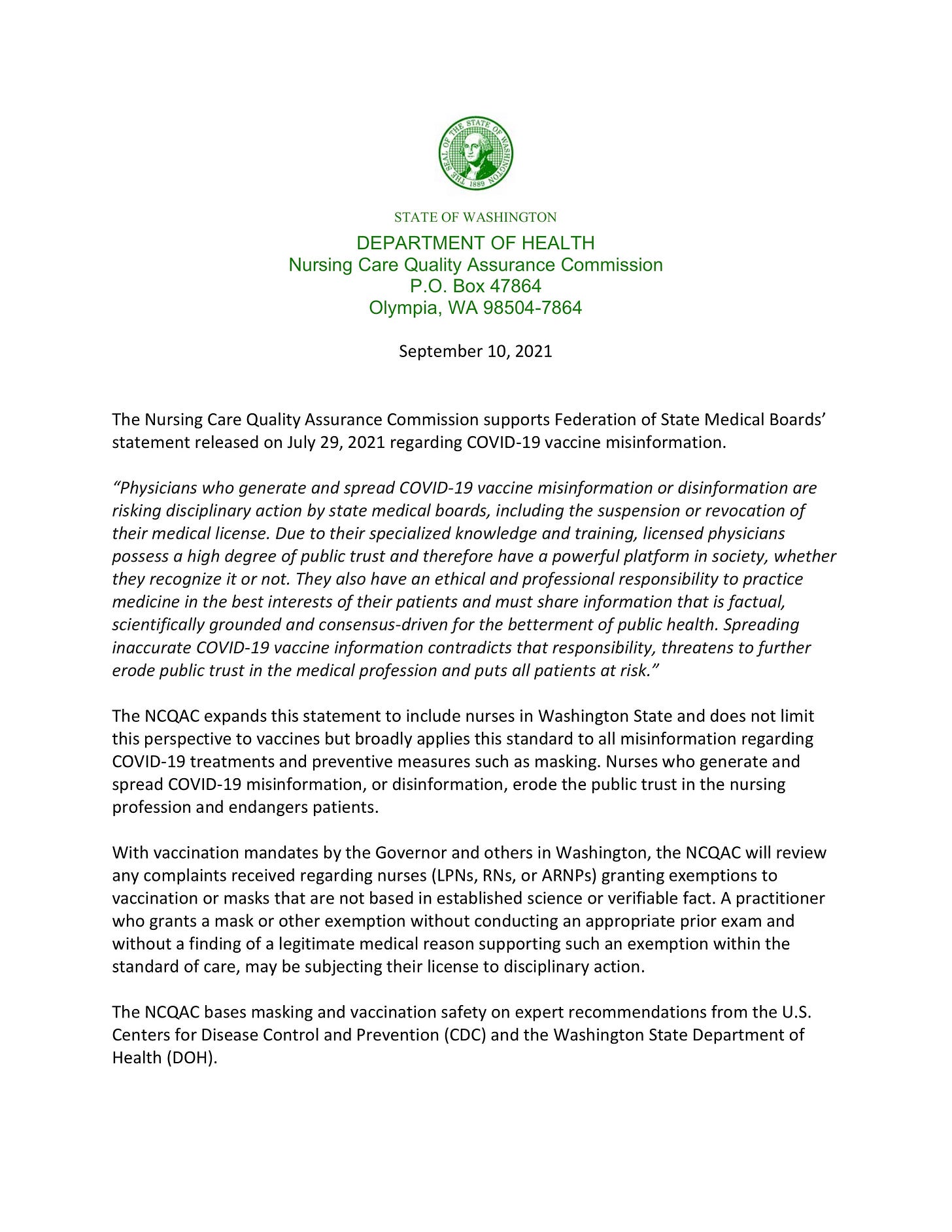 Nursing Commission statement on COVID-19 misinformation | Nursing Care Quality Assurance Commission (wa.gov)
When this statement was released, there had already been nearly 16,000 VAERS reports of deaths following receipt of a COVID-19 shot.
As Reports of Deaths After COVID Vaccines Near 16,000, CDC Urges Pregnant Women to Get the Vaccine • Children's Health Defense (childrenshealthdefense.org)
On September 22, 2021, the Washington Medical Commission (WMC) held a special meeting and adopted a COVID-19 misinformation position statement of their own. The vote was unanimous.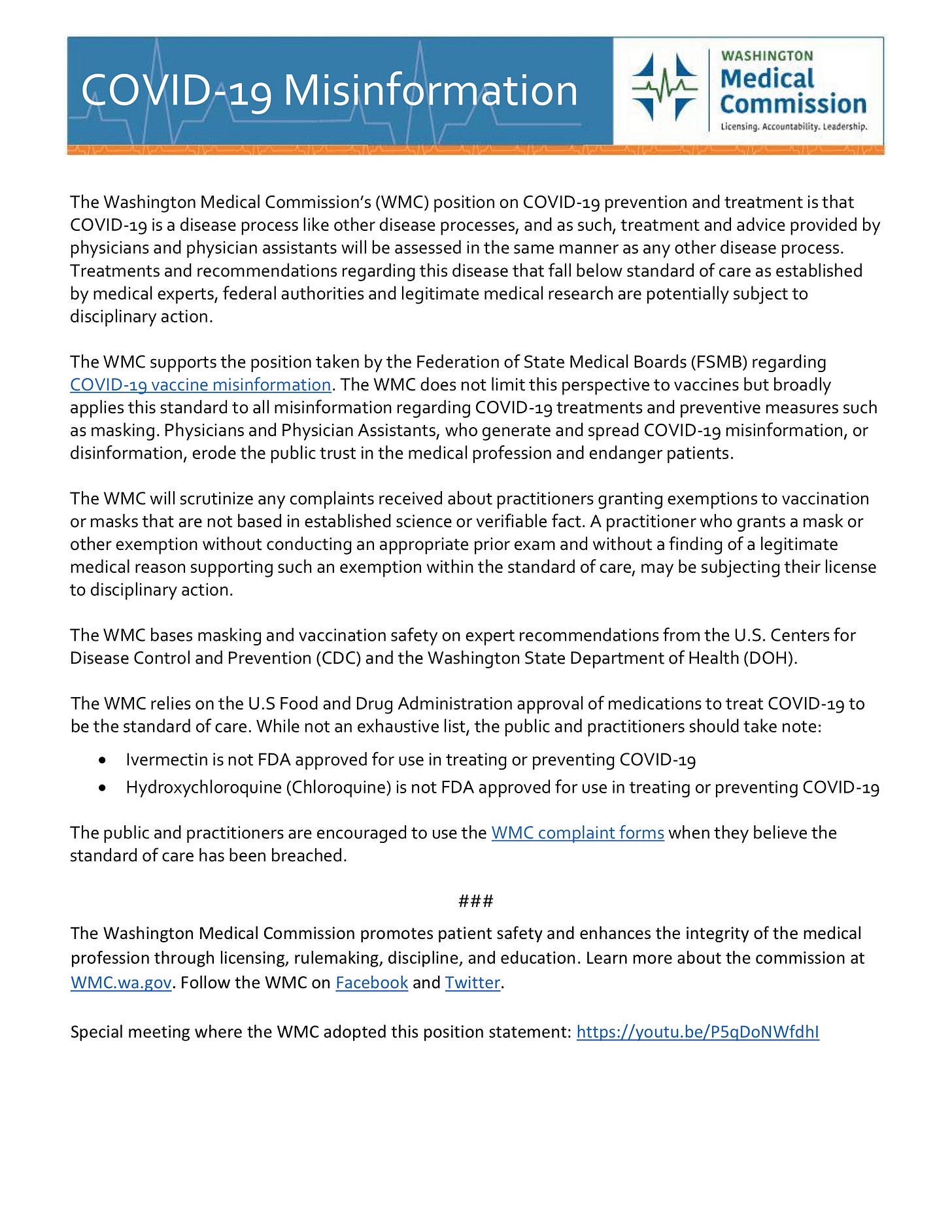 The letter intentionally implies that prescribing Ivermectin or Hydroxychloroquine is against the law, but it is not. It is legal in every state for doctors to prescribe and for pharmacists to fill. WMC knows that, which is why the letter is carefully word-smithed to imply a threat. This threat has no basis in any law, rule, or regulation, in fact the opposite is true. Off-label prescribing of FDA licensed drugs is specifically allowed by law. The threat, however, is preventing the prescribing and filling of the drugs by most providers and pharmacists in WA.
Some states are taking a stand for patient rights:
TN Becomes First State to Make Ivermectin Available Over-the-Counter
WA State's Secretary of Health, Umair A. Shah, MD, MPH supports the WMC's position. He said:
"It has never been more vital for trusted healthcare professionals to band together against the threat of misinformation. As we battle COVID-19, with so many tools at our disposal to protect ourselves and others, it is viral misinformation, rooted in unfounded scientific claims, that often stands in our way. It is our ethical duty to listen to our patients concerns, course-correct when people fall prey to falsehoods, and help them make informed medical decisions that are guided by research and medical science. Now more than ever we must align with the oath we took to "do no harm," and part of that means trusting science, listening, educating and caring for our patients according to the guidelines set by the FDA, the CDC, and experts at the state health department as we work to care for and protect the people we treat." https://wmc.wa.gov/news/wmc-takes-public-action-against-covid-19-misinformation
ICWA president Bernadette Pajer agrees that it is a doctor's ethical duty to listen and help patients make informed medical decisions. "But when the viral misinformation is coming from corporate-captured science journals, the FDA, and the CDC, and fed to the medical industry and vast public health network, doctors and patients find themselves caught in a web of policies that achieve the opposite of what they propose. This is a clear example of why we need to install checks-and-balances in public health, and to eliminate the public-private partnerships that have led to the complete capture of public health by the drug industry."
The WMC acknowledges that "Several state medical boards have taken a position on misinformation related to COVID-19 vaccines and that much of this was prompted by the Federation of State Medical Board's (FSMB) statement on spreading COVID-19 vaccine misinformation."
For more information about FSMB and its growing global reach, see this video: https://rumble.com/v1lbjvd-the-dark-truth-of-americas-federation-of-state-medical-boards.html
Governor Jay Inslee's ending of emergency measures has not ended COVID-19 misinformation policies. Neither the NCQAC nor the WMA have issued any sort of retraction of their policies.
Will WA State doctors and nurses unite and rise up against these unethical Pharma-driven policies that interfere with the practice of medicine and the doctor-patient relationship? ICWA would certainly support any such efforts. 
Flawed Evidence with the Skagit Valley Chorale
A Tuesday, March 8 2020 choir rehearsal in Mount Vernon seemed to go like any other rehearsal.
Within days, however, fifty-two of the sixty-one members of the choir singing that day were unwell. Three were soon in hospital. Two later died. The source was judged to have been a chorister at the practice who later tested positive for the virus and was considered the super-spreader.
Ban on choral singing based on flawed evidence, study suggests (churchtimes.co.uk)
From this one super-spreader, mass hysteria and finger-pointing spread across the nation. Indoor singing was banned. Soon, all indoor activities were banned. Pairs of taped yardsticks measured safe distancing. Scientists scratched their heads and wondered was it the singing in itself that caused the spread, and if that was the case how far did the notes have to soar before becoming safe?
That was then. . . now, a review of the Skagit Valley case by scientists at Nottingham Trent University (NTU), Brunel University, and Brighton and Sussex Medical School, has concluded that many of the choristers' symptoms had started too early to have been caused by the rehearsal.
The Skagit County Choir Covid-19 Outbreak – Have we got it Wrong? – ScienceDirect
In a paper entitled The Skagit County Choir COVID-19 Outbreak: Have we got it wrong? they reviewed and analyzed the original outbreak data in relation to published data on incubation. They concluded that it was "vanishingly unlikely that this was a single point source outbreak as has been widely claimed and on which modelling has been based."
The paper comes to the following conclusion:
An unexamined assumption has led to erroneous policy conclusions about the risks of singing, and indoor spaces more generally, and the benefits of increased levels of ventilation. Although never publicly identified, one individual bears the moral burden of knowing what health outcomes have been attributed to their actions. We call for these claims to be re-examined and for greater ethical responsibility in the assumption of a point source in outbreak investigations.